Dr. Jaudy discusses the causes of dry mouth.
Dry mouth is dry gut. The production of saliva is controlled by the central nervous system (the brain). In this article, I will discuss the causes of dry mouth and how problems in the nervous system can lead to dry mouth and other associated symptoms.
---
Neural Control of Saliva Production
There are three major pairs of glands situated at the beginning of the GI tract: (1) parotid gland, (2) submandibular gland, and (3) sublingual glands. All of these glands empty saliva into the mouth. These glands are controlled by the autonomic nervous system (ANS): the sympathetic division and the parasympathetic division. Specialized nerve cells (nuclei) called the superior and inferior salivatory nuclei extend neural connections (preganglionic and postganglionic fibers) to the parotid, submandibular, and sublingual glands. The parotid gland is innervated (supplied by nerves) of the inferior salivatory nucleus and the submandibular and sublingual glands are innervated by the superior salivatory nucleus. 1
Saliva production is stimulated by the parasympathetic division of the ANS and inhibited by the sympathetic division of the ANS. To understand why this is, let's briefly discuss the function of the ANS.
Function of the ANS
The autonomic nervous system is responsible for all non-volitional (involuntary) functions of the body. These include (but are not limited to) salivation, breathing, heart rate, digestion, blood pressure, perspiration, body temperature, metabolism, and more. Salivation is part of digestion. Take a look at the functions of the sympathetic (left) and parasympathetic (right) divisions below.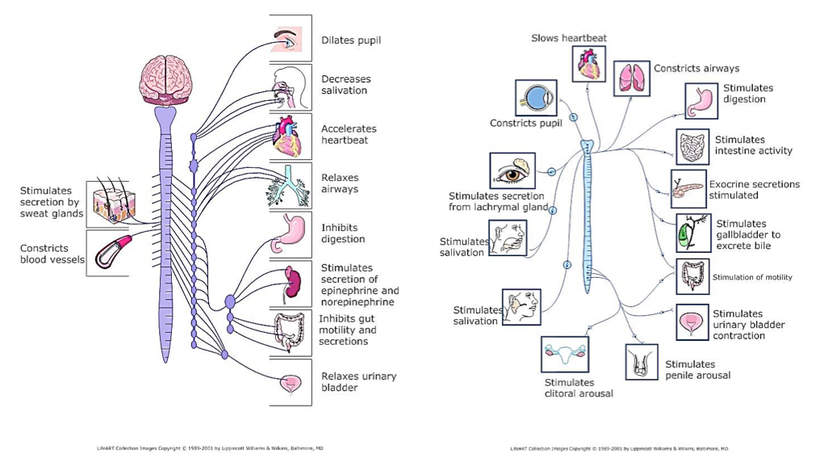 Notice that one of the functions of the sympathetic division is to decrease salivation, while one of the functions of the parasympathetic division is to stimulate salivation.
Dry mouth (xerostomia) is often an indicator of salivary gland hypofunction (SGH), which means a decrease in the function of the salivary glands. 2 3 Since the autonomic nervous system controls and regulates the functions of the salivary glands, many cases of dry mouth are due to neurological disorders that affect the inferior and superior salivatory nuclei or metabolic disorders, which are also related to the autonomic nervous system since the ANS controls and regulates metabolism.
If the autonomic nervous system is dysfunctional (dysautonomia), it can lead to dry mouth, as well as numerous other symptoms. 4 Dysautonomia is an umbrella term used to describe dysfunction of the autonomic nervous system and there are numerous conditions that include dysautonomia as a primary or secondary condition. Many people with these conditions experience dry mouth. These include:
Sjögren's Syndrome (an autoimmune disease in which the body's immune system attacks exocrine glands, including salivary glands) 5
Amyloidosis 6
Triple A syndrome (achalasia, alacrima, adrenal insufficiency) 7
Postural Orthostatic Tachycardia Syndrome (POTS) 8
Diabetes 9
And many others
Side effects of many medications, such as those for high blood pressure and depression, often include dry mouth. 9 Other causes include radiation therapy and chemotherapy, nerve damage 9, and systemic disorders (some of which are listed above). 10
Dry Mouth and Other Symptoms
What's important to note is that the lacrimal glands, which produce the moisture of the eyes, are also innervated by the superior salivatory nucleus, which is why many times, people with dry mouth also experience dry eyes. And these nuclei in the brain stem are also hardwired to the trigeminal and hypoglossal nerves, which lubricate the entire GI tract. This means that problems with digestion and elimination, such as constipation, are also related to dry mouth.
Treatment of Dry Mouth
It is important to understand that dry mouth is not a trivial symptom. In fact, no symptom is trivial. Symptoms are indications that there is something going wrong in your body. Medications that mask symptoms do not fix the underlying problem and when these underlying problems are left untreated or treated only with symptom-managing medications, then they tend to get worse over time.
Discovering what is causing your dry mouth specifically and treating those underlying causes that are specific to you is possible through Jaudy Systems Integration Diagnostics and Treatments (Jaudy SIDT) with Organ Remapping. Through non-pharmaceutical, non-invasive procedures, we are able to target those regions that have become dysfunctional, such as the inferior and superior salivatory nuclei, and any other regions that may be dysfunctional, and return function to normal, thereby eliminating or greatly reducing symptoms of dry mouth and dry eyes.
References
Rhoades RA, Bell DR (2013). Medical Physiology: Principles of Clinical Medicine. Wolters Kluwer Lippincott Williams & Wilkins. pg. 507.
Sreebny LM, Valdini A. Xerostomia. Part I: Relationship to other oral symptoms and salivary gland hypofunction. Oral surgery, oral medicine, oral pathology 66.4 (1988): 451-458.
Longman LP, et al. Salivary gland hypofunction in elderly patients attending a xerostomia clinic. Gerodontology 12.2 (1995): 67-72.
Dysautonomia International. Underlying Causes of Dysautonomia. Accessed November 21, 2014. Available at: http://www.dysautonomiainternational.org/page.php?ID=150

Lafitte C. Neurological manifestations in Sjögren syndrome. Archives of neurology 57.3 (2000): 411-413.
Itoh T, et al. Primary amyloidosis with dry eyes and dry mouth--a case report. Japanese journal of medicine 30.6 (1990): 597-599.
Dumić M, et al. Xerostomia in patients with triple A syndrome–a newly recognised finding. European journal of pediatrics 159.12 (2000): 885-888.
Sandroni P, et al. Postural tachycardia syndrome: clinical features and follow-up study. Mayo Clinic Proceedings. Vol. 74. No. 11. Elsevier, 1999.
National Institutes of Health (NIH) National Institute of Dental and Craniofacial Research. Dry Mouth. Accessed November 21, 2014. Available at: http://www.nidcr.nih.gov/oralhealth/topics/drymouth/drymouth.htm

Napeñas JJ, Brennan MT, Fox PC. Diagnosis and treatment of xerostomia (dry mouth). Odontology 97.2 (2009): 76-83.