---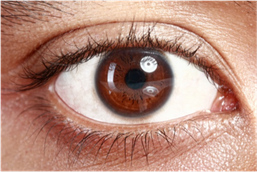 Twitching of the eyelid, as well as any other type of involuntary muscle twitching, is due to improper electrochemical neural signaling between brain regions (usually the basal ganglia, but also the brain stem) and muscles. There are different brain regions involved depending on the type of eye twitching and there are three main types of eye twitching: blepharospasm, blepharoclonus, and myokymia.
Blepharospasm and blepharoclonus typically involve the upper eyelid, while myokymia typically involves the lower eyelid (although this is not the only difference between these types; I'll explain more below).
Blepharospasm & Blepharoclonus
The two more common types of eyelid twitching are called blepharospasm and blepharoclonus ('blepharo-' means eyelid; 'spasm' means involuntary muscle contraction or movement; 'clonus' means repeated involuntary muscle contraction). Both blepharospasm and blepharoclonus are due to abnormal signaling between the basal ganglia and the musculature of the eyelid. 1
There are many different conditions and circumstances that can lead to blepharospasm or blepharoclonus. These include:
Dystonia (including Meige's (or Brueghel's) syndrome) 2
Parkinson's disease 3
Tourette syndrome 4
Arnold-Chiari Malformation 5
Bell's palsy 6
Mesencephalic and brain stem lesions 7
Side effects of drugs (tardive dyskinesia) 8
Caffeine intake 9 10
Fatigue 10
Stress 10
Light sensitivity 10
Dryness in the eyes 11
And others
Most of the time, eye twitching is transient, meaning that it lasts for a few days, weeks, or months and then goes away. However, if it chronic, it may be an indication of an underlying disorder such as some of those listed above and others.
Myokymia
Myokymia is spontaneous twitching, but it comes from the death of sarcomeres (basic muscle unit). This is usually a disorder of the brainstem and it is also related to other neurodegenerative disorders such as multiple sclerosis 12, hereditatry motor and sensory neuropathy (HMSN), polyneuropathy, and others. 13 This is usually an upper motor neuron lesion; a disease of motor neurons. These are fasciculations and are usually spontaneous depolarization or misfiring of a lower motor neuron, which can have concomitance of upper motor neuron. Usually, when we talk about fasciculation, we are talking about the death or misfiring of lower motor neurons.
References
National Institutes of Health (NIH) National Eye Institute (NEI). Facts about Blepharospasm. Accessed December 2, 2014. Available at: https://www.nei.nih.gov/health/blepha/blepharospasm

The Dystonia Society. Meige Syndrome/Cranial Dystonia. Accessed December 2, 2014. Available at: http://www.dystonia.org.uk/index.php/about-dystonia/types-of-dystonia/meige-syndrome

Biousse V, et al. Ophthalmologic features of Parkinson's disease. Neurology 62.2 (2004): 177-180.
Tatlipinar S, et al. Ophthalmic manifestations of Gilles de la Tourette syndrome. European journal of ophthalmology 11.3 (2000): 223-226.
Jacome DE. Blepharoclonus and Arnold-Chiari malformation. Acta Neurol Scand. 2001 Aug;104(2):113-7.
Miwa H, Kondo T, Mizuno Y. Bell's palsy-induced blepharospasm. Journal of neurology 249.4 (2002): 452-454.
Jankovic J, Patel SC. Blepharospasm associated with brainstem lesions. Neurology 33.9 (1983): 1237-1237.
Sachdev P. Tardive blepharospasm. Movement disorders 13.6 (1998): 947-951.
Defazio G, et al. Influence of coffee drinking and cigarette smoking on the risk of primary late onset blepharospasm: evidence from a multicentre case control study. Journal of Neurology, Neurosurgery & Psychiatry 78.8 (2007): 877-879.
National Institutes of Health (NIH) Medline Plus. Eyelid Twitch. Accessed December 2, 2014. Available at: http://www.nlm.nih.gov/medlineplus/ency/article/000756.htm

Elsron JS, et al. The significance of ophthalmological symptoms in idiopathic blepharospasm. Eye 2.4 (1988): 435-439.
Andermann F, et al. Facial myokymia in multiple sclerosis. Brain 84.1 (1961): 31-44.
Valenstein E, Watson RT, Parker JL. Myokymia, muscle hypertrophy and percussion "myotonia" in chronic recurrent polyneuropathy. Neurology 28.11 (1978): 1130-1130.